There was a song, back in the day, by the Cowsills ~ The Rain, The Park & Other Things.
"Flowers in her hair, flowers everywhere …"
Well, I have a song for everything and this is what I have to say ~ just changing the words a bit!
I have a beautiful and amazing friend. Her name is Patti Hall. She and I met when we were very young ~ I was pregnant with our oldest son, Allyn, and she with her oldest son, Jimmy. She worked in an Executive Suites as a receptionist. That's where I had my little 10'x10′ office. We shared our stories, and we shared our fears. Just 3 months before Patti gave birth, I delivered a beautiful, healthy baby boy. Patti's delivery was not as successful, and there were some complications with the baby, Jimmy, something her family still struggles with. Shortly after our babies were born, we added a wonderful client that helped my business grow, so I spoke with Patti about coming to work for me. Without hesitation, she said "YES"! We were still in the Executive Suites in my same little office sitting across a desk from each other, trying to talk on the phone and not disturb each other, and eating boiled eggs & Cheetos for lunch. Because we both had babies, we traded days coming in to the office, but we always scheduled two or three days that we were there together. Then, one day when it was Patti's turn to "man" the office, we received a call from a potential client that changed everything! Patti called me at home and said, "Nancy, you have about an hour to get dressed, head downtown and make a presentation to the Southern Cable Television Association." Somehow I managed and somehow we got the account! We moved to our "own" office shortly thereafter ~ we no longer needed the Executive Suites, and we hired a receptionist and a bookkeeper! I remember how excited Patti was about having her own office with, of all things, a window!! We moved a couple of times after that, as the business continued to grow, and then Patti took a few years of sabbatical after the birth of her second and amazing son, Jeffrey.
When she called to ask if she could come back, my heart sang. By that time, my Jeffrey and Brian had joined the Horne family. I remember her walking in the door that day for what she thought was an "interview". She said, "Nancy, you're so thin." I had on a black dress, she a red suit. I rehired her on the spot, and she came to work the next day, picking up right where she left off and never missing a beat!
But, see, Patti was never an employee to me ~ she was my best friend and colleague, and I loved her like a sister. Through the years, we shared everything. The ups and downs with our children, our families, our aging parents, the business … I know she was always there for me, just as I was always there for her.
We took many business trips together over the years, and what fun we would have. Sometimes, Mr. Horne would accompany us, but he never interfered with our shopping or eating … thinking he was just there to pay the bills!
Our last trip together was to San Francisco in 2004 for the National Cable & Telecommunications Association's annual meeting. We arrived on Friday ~ she had friends in SF, so had dinner with them that night. Saturday, we went to a breakfast meeting and then out to shop. She mentioned that she didn't feel well and was short of breath, but we chalked it up to bad clams she had the night before with her friends. So vividly I remember this ~ her youngest child, Jeffrey, a proud Marine, was about to be deployed to Iraq, but there was so much chatter on the news about other things ~ it was right after the Pope had died and the Terry Schiavo feeding tube controversy was taking up the rest of the news. As we were walking down the streets of San Francisco, she looked at me and said, "Nancy, I am so upset that I can't hear about what is going on in Iraq. I'm worried about my Jeffrey. Why is this other stuff taking away the news? I'm sorry the Pope is gone. I feel terrible for Terry and her family, but it's because of cases like hers that I refuse to go to the Doctor. I hope, when my time comes, I will just fade away ~ no extraordinary measures, please. Just let me go!" On Sunday, we had meetings, and the Cable Pioneers Dinner that night. She made it to the Dinner, but had to leave because she became ill. We were scheduled to leave for home the next morning (Monday), and I wondered how I would get her to the airport and on the plane, but she seemed better that morning and was able to eat a big breakfast. We made it back to Atlanta, and my amazing Brian drove her car to the airport to meet us so she could go directly home, instead of coming by my house to pick up her car, where she had parked it on Friday.
On Tuesday, she came in to the office, but she looked so pale and so ill. A few minutes later, she came to me and said she was going home, she was too sick to work. I asked if I could drive her home or call her husband Steve to come get her. She simply said, "No, I'll be okay" ~ but she wasn't. I talked to her everyday that week, and it was obvious that she wasn't getting any better. The last time I talked to her was Saturday morning ~ she didn't recognize my voice. I said to her husband, "Steve, you have to get her to the hospital right away." The next day, a Sunday, she got her wish ~ she faded away. I spent  Saturday night at the hospital with her husband, Steve ~ we cried, we prayed, we read the Bible, but it didn't matter. Patti had Acute Mylogenous Leukemia ~ it struck her suddenly and took her suddenly. Now, this beautiful butterfly no longer has to fight to fly ~ no, she now soars with the angels, and I'm positive she has flowers in her hair. Yes, I'm sure there are flowers everywhere around her.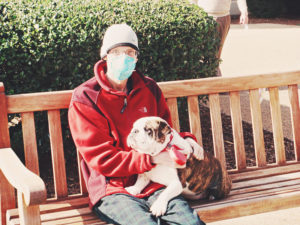 Just 18 months later, my amazing young son, Jeffrey, called me from the Georgia Southern Clinic, telling me he was sick, his hemoglobin count was low, and the Clinic was transporting him to the Emergency Room via ambulance. No one had to tell me what was wrong with him, see I knew what it was ~ I knew it was Acute Leukemia. I also knew what the outcome would be. My beautiful and amazing young son put up a courageous fight for 11 months, but this wretched disease shows no mercy.
And so it goes ~ now, like my dear friend Patti, I no longer go to Doctors either. When I walk into a Doctor's office, my face turns red, my blood pressure soars, my heart races, and I panic each time I see those machines, that medical equipment, those things that couldn't help Patti or Jeff ~ it's just not worth it. My amazing friend got her wish. I hope that, like her, I can get mine and just fade away, too.
Here's the thing, this is not a story about "The Rain, The Park and Other Things" but it is a small part of the story of my amazing friend, Patti, and the wretched disease that has taken so many.
For Patti, for my amazing Jeff and Brian, and all the beautiful butterflies fighting to fly, won't you help us find a cure for Leukemia?
Please share these stories, and help us reach the day when no more are lost, when all remissions are permanent, and when finally there is a cure for all.